Making Plastic Look Like Wood
And Wood Like Plastic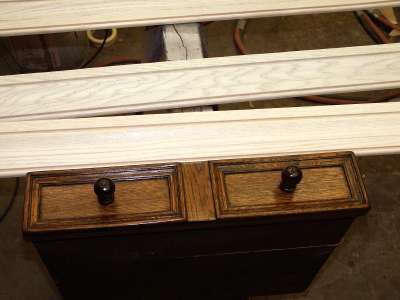 Problem #2 has now been partially corrected. The wood and plastic have the same color and also about the same texture. What I mean by texture is that the wood's grain is still open but the surface has been smoothed so that the glaze will not act as a stain. The plastic has a smooth surface with a good artificial grain pattern. To achieve the color match I will need to do four things. First, the background or base color of the sample is more yellow than the door units present base color. Second, the sample has a strong dark, almost black, well defined grain pattern. Third, The overlay color is a very dark, almost a Van Dyke Brown. Fourth, the top coat of the sample has an aged amber color. All of these issues will be corrected by multiple colored glaze coats and tinted top coats.
Copyright by Steve Nearman (The Master's Touch - FurnitureRepair.net) 2003- all rights
reserved. No part of this web site can be reproduced in any form without written permission.
Terms of Use