Making Plastic Look Like Wood
And Wood Like Plastic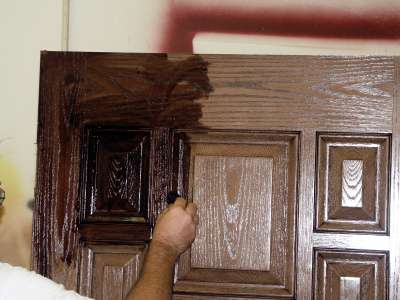 The second glaze coat color was designed to bring the door unit color very close to the overall color of the sample and strengthen the grain color more also. I used what was left of the first glaze and adjusted the color with Burnt Umber and a little Cobalt Blue and Red. I extended the working time by adding a few more ounces of Boiled Linseed Oil and Odorless Thinner.
Copyright by Steve Nearman (The Master's Touch - FurnitureRepair.net) 2003- all rights
reserved. No part of this web site can be reproduced in any form without written permission.
Terms of Use