Making Plastic Look Like Wood
And Wood Like Plastic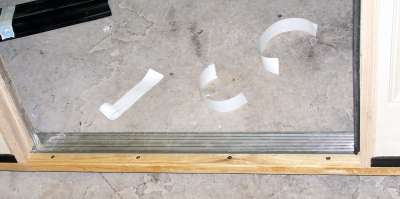 Problem 3. The threshold was "protected" by a wide strip of self adhesive advertising tape. It was very difficult to remove and the adhesive was imbedded into the wood. We used Lacquer thinner and M.E.K. to dissolve and remove the sticky glue.
Copyright by Steve Nearman (The Master's Touch - FurnitureRepair.net) 2003- all rights
reserved. No part of this web site can be reproduced in any form without written permission.
Terms of Use