Love Seat Restoration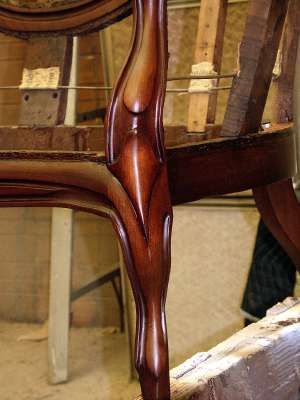 After the shading we apply 2 wet coats of pre-cad satin lacquer about 30-45 minutes between coats. Let dry for 2 hours, sand with 400 free-cut paper, dust off and apply the final full wet coat of pre-cad satin lacquer.

Tip: If you are using pre catalyzed lacquer do not use a tack cloth to remove dust between coats. Most , if not all brands will often have a reaction that causes the finish to crack or split open similar to crackle painted finishes. If you are having problems with a pre-cad finish crinkling up, usually on the last coat, the problem is that your drying time is to long. Even if the brand you use says it can be re-coated anytime, (that there is no "embarrassing time") don't believe it. Plan to complete all finish coats the same day. And if the temperature is 90F+, complete within 6 hours to avoid problems.

Copyright by Steve Nearman (The Master's Touch - FurnitureRepair.net) 2003- all rights
reserved. No part of this web site can be reproduced in any form without written permission.
Terms of Use